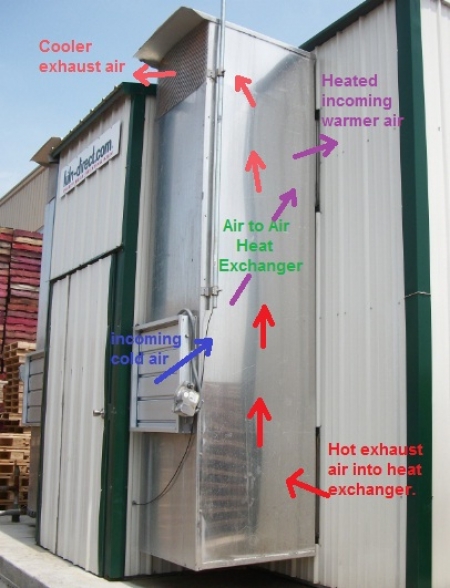 Why waste hot/humid air by venting it directly outside the kiln chamber?
EXACTLY, that is why Kiln-direct developed the vent/chimney heat recovery system and made it standard on all MiniQuick wood waste heated kilns sold.
The large (oversized) chimney box on the picture in the vent / chimney heat recovery system.
How does it work?
Heat is transferred from the hot air being exhausted from the kiln and the chimney exhaust to the incoming cold air so it enters the kiln chamber at a higher temperature without using fuel.. Consequently, operating cost is lowered and even some modest shortening of drying time is achieved.
Heating comes from:
- aluminum tubes carrying the hot/humid chamber air to the outside.
- chimney pipe carrying the combusted hot firebox air to the outside.
Heating the incoming air by:
- blowing air over the outside surfaces of the aluminum tubes (heated by hot kiln air) and surface of chimney pipe (heated by hot combusted fire air).
Example of operational impact.
Chamber temperature

250F

Outside temperature (entering heat recovery system going into kiln)

30F

Difference between inside and outside temperature

220F

Incoming temperature into kiln (after vent / chimney heating)

70-90F

Exhaust temperature (chamber temp minus cooling/transfer to incoming air)

190F

THIS MEANS THAT EVRY SINGLE CUBIC FOOT OF VENTED AIR IS PREHEATED 40-60F WITHOUT USING ANY FUEL.

RESULT:
- MORE EFFICIENT KILN.
- LESS FUEL CONSUMPTION
- POSSIBLY FASTER DRYING TIME.